Our Mission
To provide the highest quality asset management, trust administration, and estate services to individuals and families through objective advice, competitive results and personal service.
Our Path to Growth in Virginia and Tennessee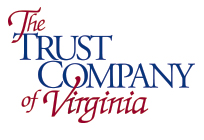 In 1993, The Trust Company of Virginia was founded as Virginia's first independent trust company.  In 2008 we formed TCV Financial, a holding company for The Trust Company of Virginia's five offices and future affiliates. We opened our fifth office in Knoxville, Tennessee in 2018 and became a Tennessee chartered trust organization, operating as TCV Trust & Wealth Management.
Our Philosophy
An Exclusive Business Activity
We are an asset management firm that maintains complete independence from others in the marketplace, focusing exclusively on service to individuals, endowments, and foundations. This stability of purpose allows us to provide the high level of personal service our clients expect. We also work closely with other advisors to ensure the coordination of our clients' personal and financial goals.
Experienced Professionals
Our most valuable asset is our employees. All officers have many years of experience in the Trust, Financial, and Investment Services industry and are supported by a seasoned administrative staff. This results in the highest level of professionalism and client service.
A Personal Relationship
We believe it is extremely important to have regular contact with our clients. This ensures our ability to help the client meet their changing personal and financial needs and objectives.
Strict Professional Codes
Our responsibility is to act in the best interest of our clients. In doing so we adhere to strict confidentiality and a professional code of conduct based on mutual trust and respect.
We are an independent fiduciary and fee-only wealth management firm.  A trust is not required to utilize our investment expertise.
Employment Opportunities
Trust Administrative Associate
Knoxville, TN
Learn more >>
Vice President, Client Administration
Richmond, VA
Learn more >>
Administrative Associate
Richmond, VA
Learn more >>